JayLab Pro VG-6




VG-6 Alkalinity blend offsets your body's acidity and creates the ideal pH

VG-6 Energy blend supports your mitochondrial function which provides you with energy.

VG-6 Detox blend brings together the most powerful anti-oxidants available in a delicious solution.

VG-6 Green health blend serves as your front line in the constant struggle against inflammation and disease.

VG-6 Enzyme blend is the start of your body's "fueling process".







Ultimate Sleep Solution




Encourage better sleep without the use of additive sleep aids.

Reset the sleep-wake cycle safely and naturally.

Create a synergy that relaxes your brain, promotes calmness

Naturally lowers body temperature, which makes you drowsy and ready for sleep

Relaxes your mind, reduces your heart rate, and promotes relaxation







Fermented Turmeric

With our Fermented Turmeric, you may:

Better support a healthy inflammatory response by your body

Increase your antioxidant protection

Helps promote stronger connective and soft tissue health.

Support better cellular health and full-body cellular homeostasis




JayLab Pro Fermented Turmeric contains the #1 bio-active compound, curcumin--to support better health.

In each serving of Fermented Turmeric, you're going to get:

700 mg of Fermented Turmeric for easier absorption
100 mg of Fermented Ginger for improved digestion and less inflammation
1 mg Black Pepper to increase the bioavailability of our Turmeric by 2,000%
Convenient vegan capsules for ease of use and to support a vegan lifestyle
A unique fermentation process to break down fibers--making it easier to cross the intestines
Soy-Free and Dairy-Free
DOUBLE Verified Gluten-Free.
QAI Certified Organic
Non-GMO






Collagen Complex




Once you hit 25, your collagen levels starts to decrease—causing less hydration and elasticity in your skin, stiff and sore joints and muscles.




Supplementing with Collagen Complex may give you the three most important—and abundant collagen types—I, II, III.




This could help supply your body with the amino acids it needs to boost your own collagen production.




Collagen is

found everywhere—including your skin, hair, nails, GI tract, joints, tendons, spinal cord.




Collagen Complex contains 100% hydrolyzed collagen peptides—for easier digestion and absorption in our bodies—that has no taste or smell.







LeptiSense


See the swelling and water retention around your face, neck and hands disappear

Halt the constant "snacks" feeling

Lose the extra inches accumulating around your arms, hips, thighs, waist and butt

Research proven ingredients that has people losing 1.8" off their waist


Help to lose 1.7" off your hips

Shed 2.8" of your body fat




Helps To Improve Weight Loss Resistance

Catapult Your Health And Energy To New Levels.

Helps To Reduce Inflammation Which Has Been Shown To Lead To Diseases.





8 Proven Nutrients Formulated Into One Powerful Detox Solution.




Omega Icon




Promotes fat loss through stabilization of blood sugar levels

Improves heart health by reducing inflammation

Decreases joint pain and symptoms related to arthritis

Regulates mood and provides relief of PMS symptoms

Over 47 times the antioxidant power of fish oil and lutein







Probiotics

Five Reasons to take Probiotics

Synthesize vitamins

Reduce allergy symptoms

Increases nutrient absorption

Protect us from "bad" bugs

Improve digestion




Advanced Joint Support

Helps to smother internal inflammation

Naturally lubricate your joints

Reduce achy and swollen joints






Erase Cravings

Dump Stored Fat And Ignite Your Metabolism

Promote Less Risk Of Heart Attacks, Strokes, Type 2 Diabetes, And More

Boost Energy and Stamina





Active Core Complex




Nutrient-rich concentrates of whole vegetables, greens and fruits

Promotes maximum fat burning potential through optimal nutritional foundation

Supports hormone balance

Increases energy levels

Boosts mood and fight off "the blues"




Improves sleep quality and reduce anxiety

Makes nails stronger and hair shinier

Does NOT upset stomach like conventional synthetic vitamins




Jaylab Pro T20 (Renewal for men)

Get your mojo back...

Promotes

lean muscle mass.
Helps to improve mood
Helps to improve sex drive
Higher mental energy level
Promotes improved strength & energy





Grade "A" Quality Whey Protein

- Naturally Sweetened with Stevia

Low Temperature Microfiltered and Ion-Exchanged Whey Protein Isolates for unparalleled purity

Naturally Sweetened with Stevia

Available in two delicious flavors: Vanilla, Chocolate

Only 2g of carbohydrate per serving – Perfect for Carb Restricted Diets

1 serving contains 5.3 grams of muscle boosting Branched Chain Amino Acids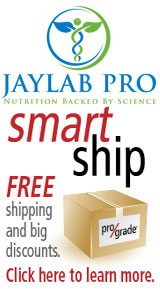 We are a GMP Rated facility, so what we say is in the bottle is really IN the bottle. Sure, it's extremely difficult to get certified, but we feel the extra effort is worth it. Don't you agree?